Founded by Stephen Wolfram in 1987 »
The original journal devoted to the science, mathematics and engineering of systems with simple components but complex overall behavior.

Hundreds of published papers, encompassing three decades of leading-edge complex systems research, are available for free and immediate download.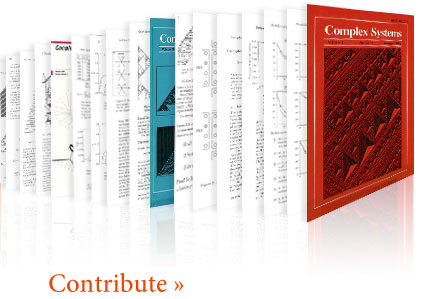 Submissions for Complex Systems may be made by webform or email. There are no publication charges. Papers submitted to Complex Systems should present results in a manner accessible to a wide readership.
current issue
Volume 27, Issue 2
Nobutaka Doba
The Time Evolution of a Greenberg–Hastings Cellular Automaton on a Finite Graph
Thomas L. Wood
Nonlocal and Light Cone Dynamics Emergent from Information-Propagating Complete Graph
Georg Jäger
Using Elementary Cellular Automata to Model Different Research Strategies and the Generation of New Knowledge
Bar Y. Peled and Avishy Y. Carmi
Complexity Steering in Cellular Automata
Jonathan Gorard
The Slowdown Theorem: A Lower Bound for Computational Irreducibility in Physical Systems

Join the leading edge of complex systems research today!