Founded by Stephen Wolfram in 1987 »
The original journal devoted to the science, mathematics and engineering of systems with simple components but complex overall behavior.

Hundreds of published papers, encompassing three decades of leading-edge complex systems research, are available for free and immediate download.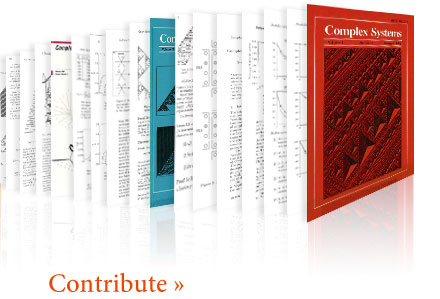 Submissions for Complex Systems may be made by webform or email. There are no publication charges. Papers submitted to Complex Systems should present results in a manner accessible to a wide readership.
current issue
Volume 29, Issue 3
Mohamed Nemiche and Mohamed Essaaidi
Special Issue of the 4th World Conference on Complex Systems (WCCS)
Saida Hachimi El Idrissi, Mohamed Nemiche, and Mohamed Chakraoui
Repression of Satisfaction as the Basis of the Emergence of Old World Complex Societies
Zakaria Laboudi
Efficient Solutions of the Density Classification Task in One-Dimensional Cellular Automata: Where Can They Be Found?
Yassine El Moudene, Jaafar Idrais, and Abderrahim Sabour
The Effect of Keywords Used on Content Attraction in Complex Networks
Amine Mrhari and Youssef Hadi
Load Balancing on the Data Center Broker Based on Game Theory and Metaheuristic Algorithms
Soumaya Zayrit, Taoufiq Belhoussine Drissi, Abdelkrim Ammoumou, and Benayad Nsiri
Daubechies Wavelet Cepstral Coefficients for Parkinson's Disease Detection

Join the leading edge of complex systems research today!