Founded by Stephen Wolfram in 1987 »
The original journal devoted to the science, mathematics and engineering of systems with simple components but complex overall behavior.

Hundreds of published papers, encompassing three decades of leading-edge complex systems research, are available for free and immediate download.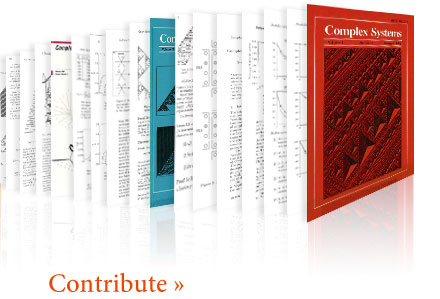 Submissions for Complex Systems may be made by webform or email. There are no publication charges. Papers submitted to Complex Systems should present results in a manner accessible to a wide readership.
current issue
Volume 31, Issue 2
Stephen Wolfram
Charting a Course for "Complexity": Metamodeling, Ruliology and More
David Peak, Charles G. Torre and Jenny R. Whiteley
Improved Majority Identification by the Coarsened Majority Automaton
Alyssa M. Adams
The Effects of Interaction Functions between Two Cellular Automata
Thomas Bärecke and Marcin Detyniecki
Graph Matching with Distance-Preserving Crossover
Furkan Semih Dündar
A Use of Variety as a Law of the Universe

Join the leading edge of complex systems research today!